President's Message 
Hibba Haider M.D.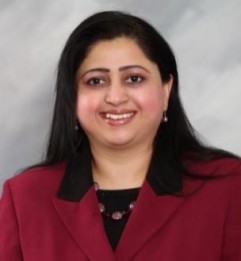 I am very honored to be serving as the President of APPNA Heartland for the term 2017-2018. This is a unique and blessed platform in the Heartland of America that came into inception almost a decade ago. The foresightedness of a group of local Pakistani Physicians in the Kansas City metro and Heartland Area who palpated the need of an organized platform in the Heartland of America is truly commendable.
This last decade since creation, APPNA Heartland under the leadership of all past Presidents, all dedicated active members, enthusiastic young volunteers and allied health professionals… has stamped and branded APPNA Heartland's name with a logo for community service, philanthropy and youth mentorship.
APPNA Heartland is a close-knit family comprising of individuals aspiring to reach common goals and missions.
I personally as President of APPNA Heartland and and on behalf of my Executive Council that is pictured in this publication, want to pay a warm tribute to all the senior leadership especially Dr Aman Khan, Dr Ahad Haleem, Dr Faisal Jafri, Dr Hussain Haideri for their all-time support and guidance. A tribute to all involved seniors of executive council teams who have served in their times with respective presidents, executed their assigned roles with exemplary dedication and left us with challenge to fit ourselves in their shoes. Recognizing Dr Moben Mirza who has raised the bar of APPNA Heartland's name recognition and associated it with excellence.
Our annual free health fairs as well as continued weekly voluntary participation over weekends of APPNA Heartland physicians for example with Mercy and Truth Free Health Clinic are a true testament to our pledge of catering to the medical needs of all including underserved community, despite being engaged in full time jobs. Skilled sub specialty physicians offer free consultation and medical care to needy, underprivileged and uninsured population sometimes attracting needy from hundreds of miles away. It is this sacrifice, service and compassion that has earned APPNA Heartland a goodwill recognition that is helping to create a rewarding legacy. Recognizing Dr Ahad Haleem to help facilitate the continued collaboration of APPNA Heartland physicians in this marvelous community service project.
I want to thank all my Executive Council as well as Dr Fariha Shaffie this year who was the backbone of helping organize the first ever APPNA Heartland Women's Health Forum. A very good idea of community education program streamlined with the annual CME Event in February 2017. To all of you, the art of balancing work, life, family commitments and taking on a daunting task of pulling together the APPNA Heartland's Events and this year Women's Health Forum done beautifully is truly worth a loud applaud.
Women's Health Forum proved to be a well appreciated event and reflected a need of our women in community to get health education, updated information and medical council within a comfortable and engaging relationship with female physicians. Thanking and appreciating the presenters, Dr Romana Ahad, Dr Tahira Zufer and Dr Sobia Shaffie.
As a female physician, I can understand this need and am proud to be able to say we will continue to expand our new role parallel with community needs. I welcome and encourage more female physicians to join hands with APPNA Heartland, use your voice on this platform and enable us to deliver this promise and some more back to the community we live in.
I know it is already difficult to balance life, work and family, but there are some roles that only female physicians can model and cannot happen without your continued participation, so please rise to the occasion.
One of shining star event of APPNA Heartland is Youth Career Guidance Seminar, kudos to Dr Moben Mirza who initiated it.
I am deeply thankful to Dr Sobia Shaffie (Councillor at Large of my Executive Council) who conducted this very beautifully. The credit of success of this event goes to the list of exceptional and diverse group of panelists that offered to be a role model for aspiring and ambitious youth in the community. So please join me in thanking:
Dr Farah Ahmad MPH. PhD. (Epidemiologist)

Megan Peters (Professional Photographer and Writer)

Amber Zaidi (Artist and Graphic Designer)

Zehra Shabbir MPH. (Global and International Developer)

Andrea Berry (Speech and Language Pathologist)

Mohammad Bilal (UMKC Medical Student)
The CME Event in February 2017, was my Executive Council's first event and was arranged amicably. Thanking all the CME presenters to make this another success story, namely Dr. Muhammad Mudassar, Dr Sadia Hayat and Dr Mairaj Khan.
I am truly thankful to my predecessors who let me experiment with introducing APPNA Bazar on our platform in 2015. The intention was to extend open hearted welcome to non-physician community, help and support local business owners and artists under the banner of APPNA Heartland. I am very thankful that the community reciprocated with an encouraging response and a modest APPNA Heartland Bazaar has been one of the attraction of our annual event. Thanking Dr Nilofer Khan from bottom of my heart to help in its continued success in past 2 years with me and Dr Sobia Shaffie for propagating this further on.
It is efforts and contributions like these that lets APPNA Heartland take continued pride in delivering the promises we make.
Finally, APPNA Heartland is indebted to the consistent support from all community members not just Physicians, to help us continue our existing ventures and realizing new dreams. Do not hesitate to provide creative feedback and ideas about collaboration.
I welcome you all to another year of a great APPNA Heartland program, truly aspiring keynote speaker, a silent leader deserving life time achievement award, awarding ambitious youth with academic excellence and top it all with mega entertainment from a renowned band.
My commitment, in chorus with my Executive Council team for next two years is to keep this torch of APPNA Heartland shine as brightly lit as possible before handing it on to the future generations.

For more information contact: